With the start of the New Year, I always love jumping on the New Year's Resolution bandwagon. There's something about the feeling of starting fresh and setting myself a goal that I can work towards and carry on achieving throughout the year.

The thing with resolutions is that we often have the best intentions, but without holding ourselves accountable, or making our resolutions realistic enough to achieve, they tend to be failed missions before the end of January. I think we've all been there at some point!

This year, I really thought about what I'd like to change in my life for the better, and one thing I have wanted to change for a while is how eco-friendly my day to day life is. I'm one of those people who recycles what I can, already making a conscious effort to reuse items rather than throwing them away, but I know I can do better. So this year, I have made the new year's resolution to make 12 changes to the items I use on a day to day basis in order to contribute to a greener, more eco-friendly world that all of us live in.

So each month I will choose a new product, activity or item that I can introduce to my own life and share my findings with you all here.

To kick things off, I have switched my normal shampoo and conditioner for shampoo and conditioner BARS from My Little Eco Shop. This particular company came recommended to me, although there are lots of places popping up both online and in physical shops that are selling awesome eco-friendly bath products. The items I bought are vegan, no-plastic, and come in recyclable packaging which is fab. Their mission is solely focused on creating fairly priced, eco-friendly products that help fight the battle against excess waste by being super minimalistic. They're also based in Devon in the UK, and we love supporting local businesses at Wild For Purpose.

It was hard to choose which bars to go for at first with so much choice, but I ended up with the Blueberry Crush Shampoo and the Blueberry Crush Conditioner Bar. Being a blondie, the description on the website told me it would be a good match for my hair. They also sell a huge selection of eco-friendly cosmetics, feminine hygiene products and handmade skincare and haircare products. I was super surprised at the items on offer to make more no-waste, more environmentally friendly swaps and I'm sure these shampoo and conditioner bars are just the start!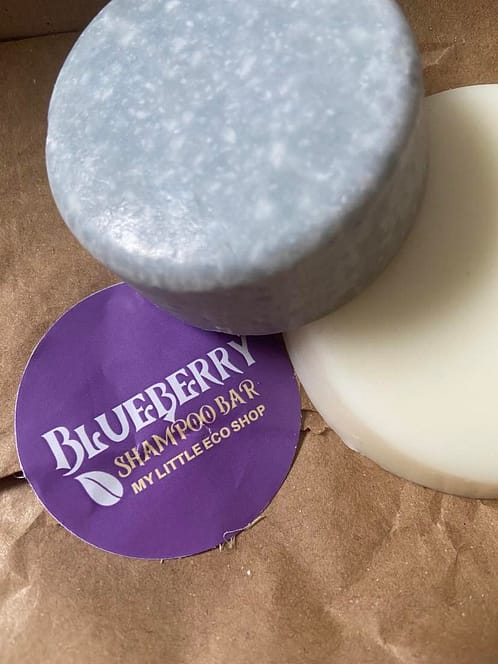 I couldn't wait to try them out and although it felt a little weird rubbing a bar into my hair rather than a liquid, I was really pleased with how my hair felt after using these products. The bars lather really well and they smell great! Plus I can give myself a pat on the back for being mindful of only needing to recycle the recyclable packaging – no waste! I'm very happy with my swap and can't see a reason to switch back. This month's swap has definitely been a success. I'm already excited to swap something else next month.

To make sure I keep on track with my goal for this year, I plan to make myself accountable by inviting you all on the journey with me. I have a list of things I think would be manageable as well as affordable to swap in my day to day life, without creating too many waves and being a huge change to get used to. I think by having 12 months of trying something new is an idea that excites me and will keep me focused on my intention of becoming greener in my day to day living. Twelve small changes throughout the year certainly feels more manageable than trying to make lots of large overwhelming changes all at once, so it doesn't feel like a huge daunting task.

I'm looking forward to each swap as it comes, and excited to see the positive impact it has further down the line. If you feel like you could use some more tips on how to stick to your own resolutions, check out another article we have here.

Make sure to follow my get-greener journey and see how I stick to my New Year's Resolution on Facebook, Instagram or here on the Wild For Purpose website. I'm also super keen to take on any recommendations for greener eco-friendly swaps and life-hacks, so recommend away!